Description
Alnair Labs CVF-300CL Ultra Bandwidth-Variable Tunable Filter
Unprecedented sharpness: 1500dB/nm roll-off
Unprecedented narrowness: min. bandwidth 30pm (3.7GHz)
Flexible: both bandwidth- and wavelength-tunable
Ultra-Sharp Edge Roll-Off
The filter exhibits an ultra-sharp roll-off of 1500dB/nm (12dB/GHz), without compromising the flexibility of bandwidth- and wavelength-tuning. Ideal for DWDM channel selection and removing ASE noise.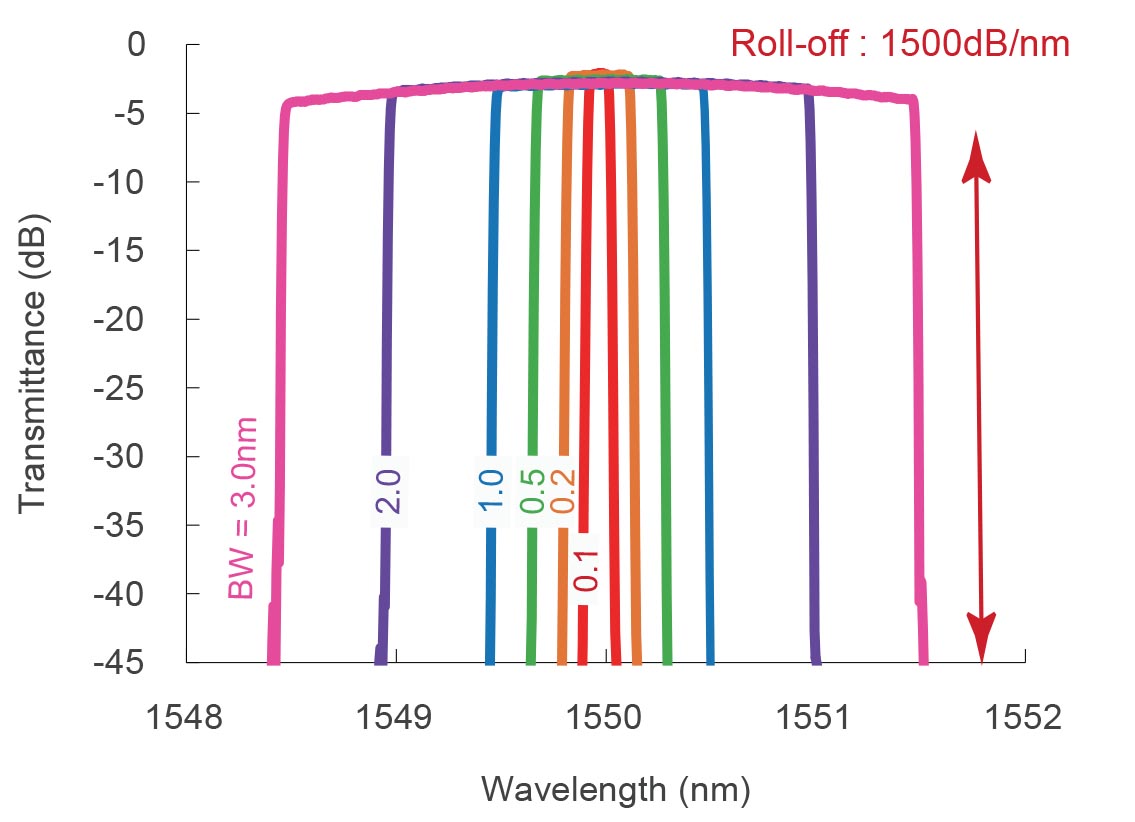 Continuously-Tunable BW: 0.03 to 3nm
The 3dB bandwidth is 30pm (3.7GHz) at its narrowest, and is also continuously tunable to 3nm (370GHz). Filtering of <1GHz optical frequency comb lines is also possible by combining with etalons.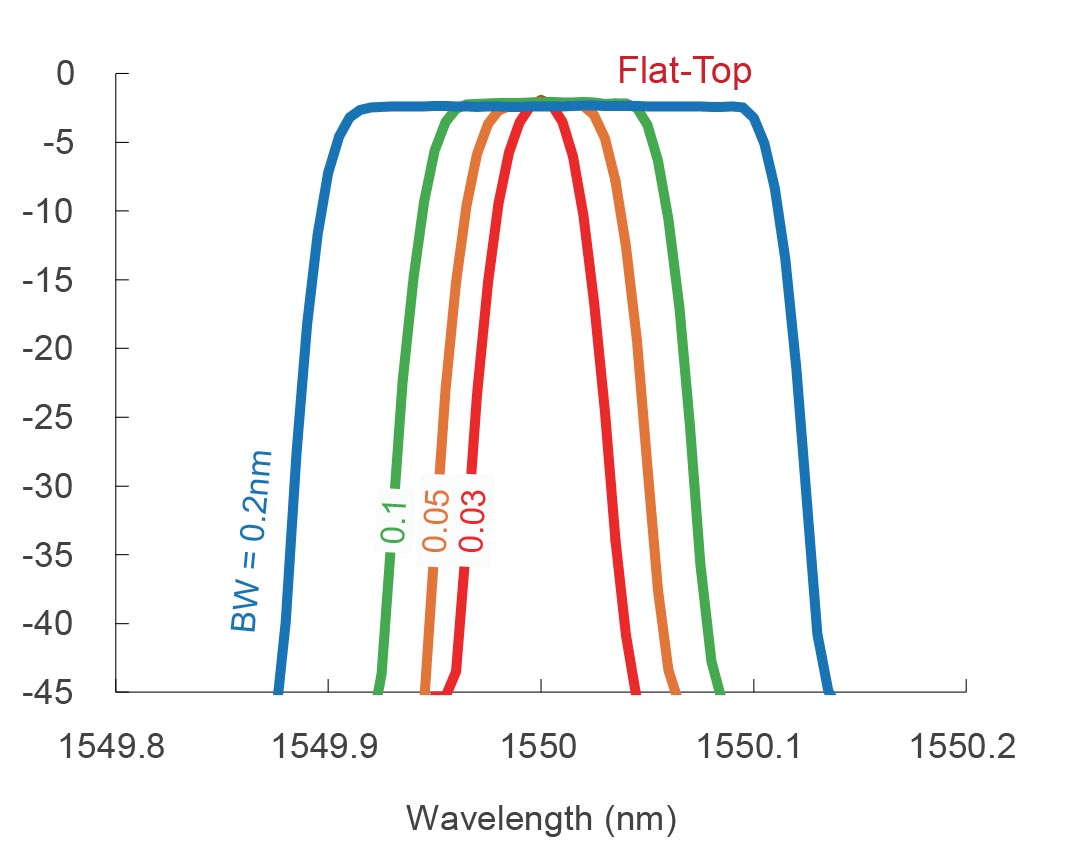 Applications
Automated inspection systems in prodcution lines
Narrow-band filtering for DWDM systems
Pulse-shaping and ASE-noise filtering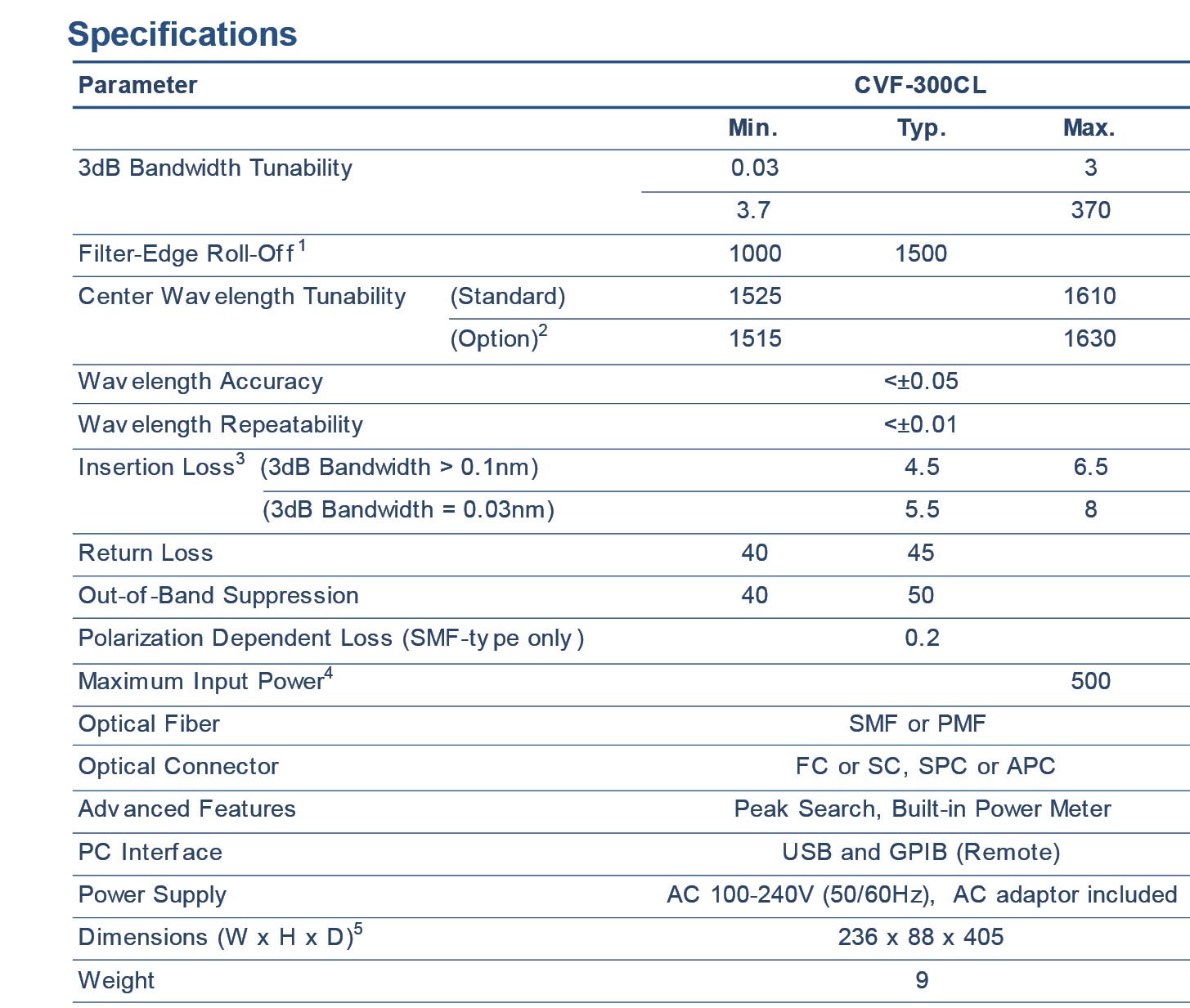 1. Calculated between -3dB and -40dB points.
2. Within the wavelength range of 1515-1525nm and 1610-1630nm, specifications such as max. insertion loss, min. 3dB bandwidth, roll-off etc may vary from the values specified above.
3. May increase by <0.5dB due to connector losses.
4. Max. 300mW in the case of PMF (ensure linear polarizaton aligned to slow axis, in order to avoid damage).
5. Not including protruding parts.
6. For CE version, the casing dimension is 236 x 88 x 405mm.
Note: The above specifications are guaranteed at ambient temperature of 25 ± 1 °C. In the case of CVF-300CL, allow sufficient warm-up time for stable operation. The above specifications may change
without prior notice.
Options
Manual filters in 1000nm and 1300nm wavelength ranges.
Dual-channel filter (Filter out 2 wavelengths from the spectrum, available for manual version only.)
Please inquire for other customizations.
Alnair Labs CVF-300CL Ultra Bandwidth-Variable Tunable Filter