Description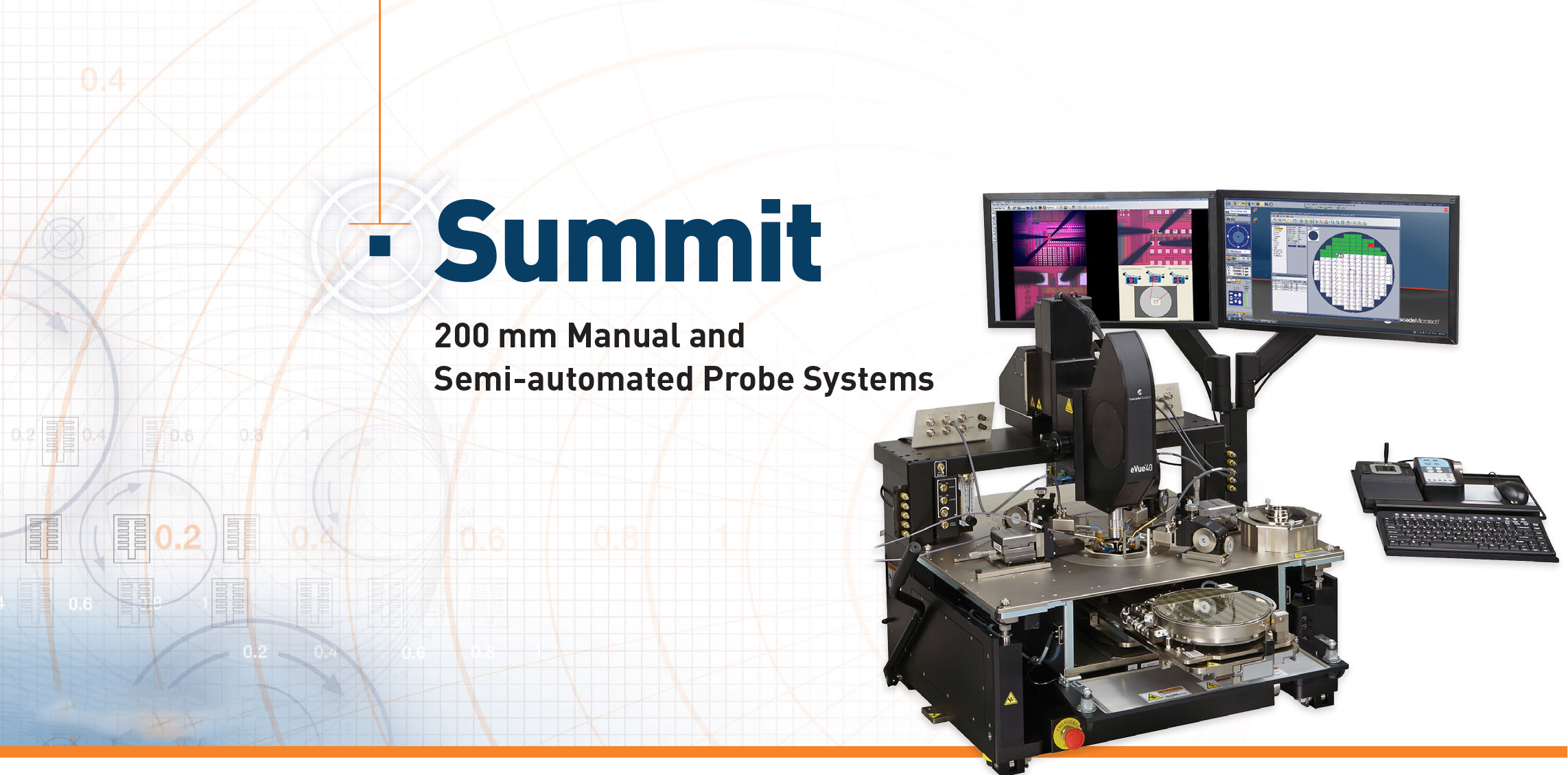 Summit™ series manual and semi-automated probe systems, with PureLine™ and AttoGuard® technology, allow you to access the full range of your test instruments for 200 mm and 150 mm wafers. Whatever your application: RF/Microwave, device characterization, wafer level reliability, e-test, modeling, or yield enhancement, Summit series platforms lead the industry in on-wafer measurements. Summit series probe stations are easy to configure with your choice of measurement performance, manual or semi-automated operation, chuck size, thermal range and microscope options. All platforms are -60°C to 300°C compatible to ensure an upgrade path to meet your future needs. 

Cascade Summit Manual 200 mm manual shielded probe system

The powerful Velox™ probe station control software features easy on-screen navigation, wafer mapping, automation and seamless integration with analyzers and measurement software. It enables simple operation of motorized positioners and thermal systems. For a wide range of applications, the Summit probe station powered by Velox software achieves high test efficiency.
Summit – Manual Overview
Precise On-Wafer Device and Process Characterization
High-precision probe system that enables excellent measurement performance for a wide range of applications in an EMI-shielded, light-tight and moisture-free test environment and at a temperature range from -60°C to 300°C.
Applications: IV/CV, RF/mmW, Failure Analysis, WLR, Sillicon Photonics, MEMS 
Summit – Manual Key Features
High Flexibility

Re-configurable for DC, RF, mmW, FA, WLR and more
Thermal range: -60˚C to 300˚C available
Upgrade path to meet your future needs
Stable and repeatable measurements over a wide thermal range

Advanced shielding solution

Moisture-free, light-tight and EMI-shielded test environment with MicroChamber® technology
Advanced EMI-shielding with PureLine with AttoGuard technologies
Best solution for low-noise and 1/f measurements
Minimize AC and spectral noise
Minimizes settling times for efficient measurements, without compromising accuracy over full thermal range

 

Ease of use

Manual 3-axis stage with ergonomic controls
Locking roll-out stage
Fast, accurate "hands on" wafer positioning
Quick, safe, and comfortable wafer access
Cascade Summit Manual 200 mm manual shielded probe system