Description
FormFactor Cascade SUMMIT200 semi-automated probe system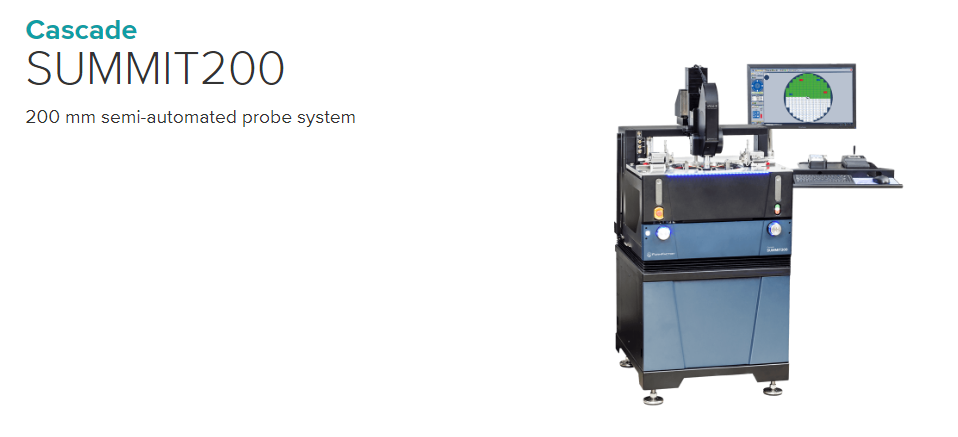 SUMMIT200 Overview
The new Cascade SUMMIT200 advanced probing system, is essential for collecting high accuracy measurement data as fast as possible.
Designed for R&D and device characterization/modelling applications, the SUMMIT200 enables precision electrical measurements over temperature for DC, RF, mmW and THz applications, with semi-automatic operation for fastest time to accurate data.
A new advanced 200 mm fast stage, high throughput test features, and a temperature range from ambient to 300°C, provides the core functionalities needed for the scientist or R&D and test engineer to get their job done fast.
The SUMMIT200 supports Contact Intelligence™ – a unique technology which guarantees to make and hold wafer contact with constant high quality. A powerful combination of innovative system design and state of the art image processing provides an operator-independent solution to achieve highly-reliable measurement data at any time.
With a wide range of applications, and upgrade paths to meet any future needs, the SUMMIT200 provides the most advanced 200 mm probe station platform for fast, high accuracy measurements for existing and future devices and ICs
Applications: IV/CV, RF/mmW, Failure Analysis, MEMS
---
This system supports Contact Intelligence™, an innovative technology that senses environmental changes and reacts to optimize probe contact accuracy for autonomous semiconductor test. FormFactor's Contact Intelligence combines smart hardware design, innovative software algorithms and years of experience to create a technology that provides benefits across a wide array of applications, even when probing small pads. Contact Intelligence accelerates time to accurate data, in some cases, reducing test time from months to minutes. Learn More about Contact Intelligence
TESLA200 Key Features
Measurement Accuracy

Achieve unsurpassed RF/mmW measurement and calibration accuracy with integrated RF tools and WinCal
Shortest signal path test integration for accurate, thermally stable, and low-error data collection

Positioning Accuracy

Advanced 4-axis semi-automatic stage for accurate positioning and repeatable probe-to-pad contact
Precision sub-micron positioning and active thermal compensations with motorized positioners and VueTrack PRO
Additional quick "hands on" wafer positioning with manual ergonomic controls

Flexibility and application-tailored solutions

RF/microwave device characterization, FA and design debug
Seamless integration between Velox and analyzers/measurement software
Complete solutions using probe positioners and probe cards
Versatile microscope mount system for fine-structure and large-area probing
Thermal range ambient to +300°C

Ease of use

Comfortable and ergonomic operation
Quick and comfortable manual wafer access via locking roll-out stage
Easy on-screen navigation, wafer mapping, and operation of accessories and thermal systems with Velox
FormFactor Cascade SUMMIT200 semi-automated probe system.