Description
The XJTAG Development System was originally developed by a Cambridge (UK) based consultancy that specialises in real-time embedded systems, as a result of an increasing number of BGA (Ball Grid Array) and chipscale devices entering into their designs.
Due to the inaccessibility of the pins on BGA and chipscale devices, a solution was needed to test and debug early design prototypes. After an extensive search, no suitable solution could be found that offered the flexibility, ease of use and price level required.
This led to the development of XJTAG – offering for the first time a common platform suitable for use by design and development engineers, test engineers, contract manufacturers and field test engineers, providing testing of not only JTAG-enabled devices but non-JTAG devices as well.
XJAnalyser
XJAnalyser is a powerful plug-and-play tool for circuit visualisation and debugging. It provides a graphical view of the devices in a JTAG chain, allowing you to set / disable pin output values and read the input values. It also has the facility to run SVF and STAPL files.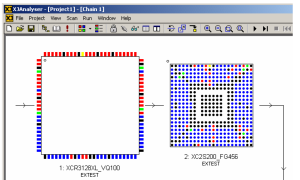 XJAnalyser has a fast, simple setup wizard, to let you start testing and debugging your board straight away. The intuitive graphical interface allows rapid interaction with the devices in the JTAG chain – you can monitor the states of all the IO pins of JTAG devices at the same time and set pins to output high or low as required.
These features are very hard to achieve using conventional techniques, especially on BGA devices. You can consider XJAnalyser as a logic analyser and signal generator for the pins on all of your JTAG devices.
XJAnalyser is also able to make pins toggle – handy for tracing a signal around a board with an oscilloscope: if you slip to another pin, you will instantly know that you are no longer tracing the signal of interest.


The XJTAG Development System is an established test suite with a range of software and hardware products that enable you to debug, test and program electronic circuits quickly and easily. The system works with devices that conform to the IEEE 1149.1 and 1149.6 boundary scan standards.
XJTAG is developed in Cambridge (UK) and it is supported worldwide, to enable developers and test engineers to unlock the potential of boundary scan. XJTAG can help you speed up the design and development process and improve your debug and testing throughout the whole product lifecycle.
XJTAG Development System