Description
As a member of Pacific Power's AMX-Series popular family of high performance Linear AC Power Sources, the 312AMX offers the same low output voltage noise and distortion, ease of installation, and high AC waveform fidelity as found in all of Pacific Power's Linear AC Power Sources. Control and operational features provide a high degree of versatility and ease of use for applications ranging from simple, manually controlled frequency conversion to harmonic testing and sophisticated programmable transient simulation.
AC TEST POWER
All 312AMX models are equipped with a powerful micro-controller with the ability to operate as a fully integrated test system. This enables a variety of power conditions and transients to be applied to the device under test while metering and analyzing all output performance parameters. For higher power requirements, refer to the AMX & ASX series catalog.
FREQUENCY/ VOLTAGE CONVERSION
The 312AMX is an excellent source of stable AC Voltage over the frequency range of 20 to 5,000 Hz when using the high-end UPC-32 controller. Also available in 1,200 Hz maximum output frequency when using UPC3 or Manual controller. The output frequency is quartzcrystal stabilized. Output voltages up to 300VL-L in split phase mode and 260VL-L in three phase mode are available on the 312AMX model.
PHASE CONVERSION
With the ability to provide either single or two phase output, the 312AMX is a good choice to convert one-phase line voltage into precisely controlled split (two-phase) or three-phase output power.
UPC SERIES CONTROLLER
Three controller models are available in both manual and programmable control version. All controllers provide manual operation from the front panel. Programmable Controllers may be operated from the front panel or from a remote interface via RS 232 or GPIB.
312AMX
Related Product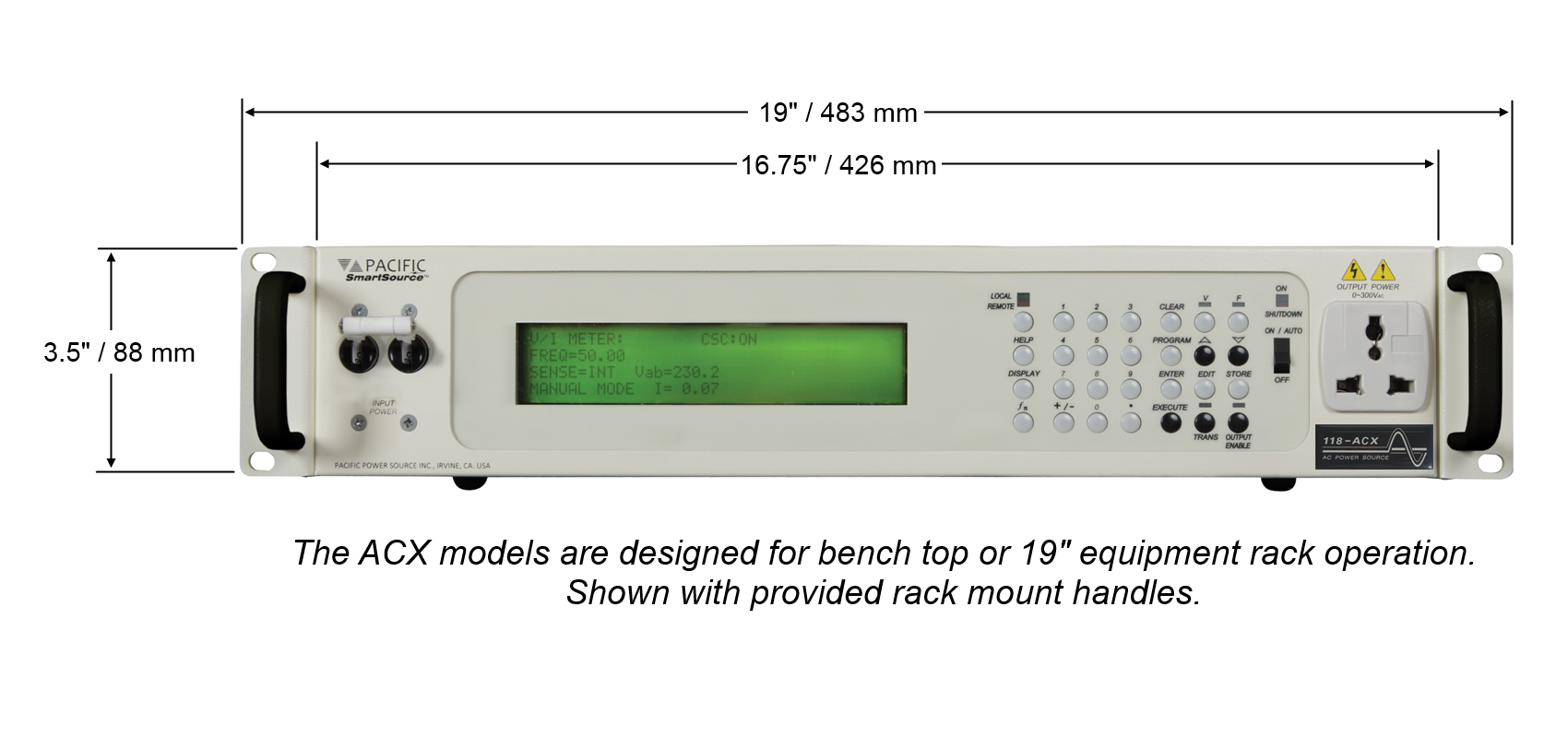 The ACX-Series consist of three compact, single-phase programmable AC power sources spanning a power output range from 1000VA to 1800VA.