Description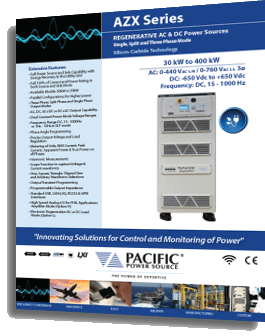 The AZX (regenerative AC DC power source) Series consists of a range of High Power Switching AC, DC and AC+DC capable Power Sources with regenerative capability to support both sourcing and sinking of current and power. Energy recovery to the grid enables testing of products using only a fraction of the required grid power when compared to using non-regenerative power sources, saving cost.  The AZX also supports testing of grid-tied products like wind and solar inverters, energy storage systems (ESS) and electric Vehicle to Grid (V2G) and Vehicle to Home discharge systems.
Covering a power range from 30 kVA to 440 kVA and higher if needed. All AZX models offer single, split and three phase output configurations as well as special dual or triple independent outputs as needed. The AZX is a state-of-the-art design using Silicon Carbide (SiC) power devices for enhanced performance.
Great emphasis has been placed on energy efficiency, ease of installation, and maximum power. Control and operational features provide a high degree of application versatility and ease of use for the test engineer. Applications range from simple, manually controlled frequency conversion to IEC power line  emission and immunity testing and with sophisticated transient simulation.  For defense and aviation applications, the AZX supports a fundamental frequency range up to 1000 Hz and dual AC voltage ranges of 0~225Vac and 0~440Vac (L-N) respectively and to support most avionics compliance test standards. In DC mode, voltage ranges are 0~335Vdc and 0~650Vdc.
While analog inputs and outputs are standard on all AZX modes, for real-time Power Hardware in the Loop (HIL) Grid simulation applications, the AZX offers an optional high speed set of analog inputs and outputs with fast output response (Option -H).
Models Table for AZX – Regenerative AC / DC Power Source
Cabinet Systems

Note: In Split Phase mode, rated power is 30kVA/30kW for 3300AZX and 37kVA/37kW for 3450AZX * & 3550AZX Models.
Instructions:
For applications requiring more than 220kVA/kW, contact ACA TMetrix Inc.
Three phase input voltage settings: 380 to 400VAC±10% or 480VAC±10%.
Versatility of AZX – Regenerative AC / DC Power Source:
Fully Regenerative Operation with energy recovery to the AC grid
Voltage Source and Current Source modes standard
Add Electronic Load (option L) to support Regenerative AC or DC Load Applications
Source and Sink full Power and Current
AC Mode, DC Mode, AC+DC Mode
DC, 1 to 15Hz, 15 to 1,000 Hz Frequency Ranges
Dual Constant Power mode AC Voltage Ranges 0~225V L-N and 0~440V L-N
Dual Constant Power mode DC Voltage Ranges 0~335V L-N and 0~650V L-N
Full power available in both AC and DC Modes
Precision True-RMS metering of Volts, Amps, Power, VA, Power Factor and Crest Factor
Waveform capture scope function for voltage and current on all phases
Harmonic measurement for voltage and current on all phases
Extensive Analog and Digital I/O for ATE and system integration
Option H adds fast responding analog I/O controls for PHIL application support
Available PPSC Manager Windows graphical user interface
Also compatible with legacy UPC Studio graphical user interface
1, 2 or 3 Phase Selectable Output from front panel or bus command
Special 2 or 3 independent outputs settable to different modes (Voltage or Current Source or ELoad)
Sine, Square, Triangle, THD and Arbitrary waveforms
3 Phase AC input with Active PFC, selectable input voltage
200 stored programs for both static and dynamic Transient Testing
LIST, PULSE and STEP Transient Modes
Continuous Self Calibration (CSC)
Precision Voltage Programming – 0.02% with CSC engaged in AC and DC modes
Standard Models in Power Levels from 30 kVA to 220 kVA. Contact us for higher power.
Standard RS-232, USB, GPIB and Ethernet Interface with SCPI compatibility
LXI Compliant LAN/Ethernet with embedded web server
IVI Instruments drivers
CE (EMC/Safety) Marked
Design Provides Total Control of AC and DC Power:
All AZX Series power source models are equipped with a digitally Programmable Controller.
Total control of the output power mode, phase mode (form) is available from the front panel or the bus.
All operating functions may be controlled from either the front panel or from a remote RS-232, USB, LAN, ModBus TCP or GPIB interface.
IVI Compliant Instrument Drivers are available.
Special AFX Series Operating Features:
Continuous Self Calibration: Provides for exceptional accuracy of the AC or DC output Voltage. When enabled, accuracy improves to ±0.02% referenced to the power source internal voltmeter.
Single Voltage Range with Constant Power Operation: More output current available at lower voltage setting without having to change range.
Waveform Library: Up to 200 different waveforms can be stored in the waveform library for execution as part of a steady state program or for substitution in any output phase as part of a transient test program. Memory location #1 is a non-editable high resolution sine wave. Locations 2-127 are editable and can be substituted in any output phase. An unlimited number of waveforms may be stored on the computer using the available PPSC Manager Windows software.
Time Based Transients: Create and execute transients that occur over a specified time segment to modify the output waveform, voltage, and frequency for any or all phases. LIST, PULSE and STEP Transient modes are supported. An output trigger is provided for synchronizing external test equipment to the actual transient event.
Cycle Based Transients: Create and execute transients that substitute a waveform in any or all phases for 1 to 100 cycles. The waveform being substituted can be selected and/or modified from the waveform library.
Applications of AZX Series:
Regenerative AC or DC Test Power

The AZX Series Power Source can both source and sink current and power from an EUT. Thus it acts as a Grid Simulator for testing of grid connected, energy producing products like PV Inverters or bidirectional EV Chargers. In DC mode, the AZX can be used to charge and discharge large battery packs up to 650Vdc with the addition of the Electronic Load Option L.

AC+DC Test Power

Special test requirements such the application of a DC offset on an AC line or AC ripple on a DC supply output are supported by selecting the AC+DC Mode of operation.

Frequency/Voltage Conversion

The AZX Series is an excellent source of stable AC voltage over the frequency range of 15 to 1,000 Hz. The output frequency is accurate to 0.01%.

Phase Conversion

With the ability to provide singe, split and three-phase outputs, the AZX Series is the well suited to provide 1 Phase to 2 or 3 Phase or 3 Phase to 1 Phase conversion for large AC loads

Electronic Load Option

The AZX power source can be used as an electronic load by adding the "L" option.  With this option, full electronic load capabilities are added in both AC and DC mode. Regenerative Loads save cost by reducing electricity use and heat generation. They also allow testing of higher power EUTs as most of the power sent to the AZX load is regenerated back on the gird so the test lab power feed only has to cover the losses of the test equipment used and the EUT.

Supported Load Modes are Constant Current (CC), Constant Resistive (CR), Constant Power  (CP) and Circuit Emulation (CE).  Voltage, power and current ranges remain the same as in Voltage Source or Current Source modes.

Controller:

The AZX Series controller offers both manual and full programmable control. Front panel operation is menu driven using a combination of direct access menu keys to the left of the large color display, five soft keys located on the right of the display as well as a color touch screen. The rotary knob can be used to scroll through menu fields and doubles as an ENTER key. The same knob allows for slewing of output parameters. A full decimal keypad is provided as well for direct parameter entry. The AZX can also be operated remotely from one of its included remote interfaces. Operation from a web browser via LAN or USB is also supported through the embedded web server of the AZX.
Specifications:
Power Source Specifications

Output Frequency:

DC, 1 to 15 Hz, 15 to 1,000 Hz.

Phase Output Modes:

Single (1), Split (2) and Three Phase (3)

DC Voltage Range:

Low Range: 0 ~ ±335 Vdc Constant Power Mode
High Range: 0 ~ ±650 Vdc Constant Power Mode

Output Modes:

AC, DC, AC+DC, DC+AC

AC Voltage Ranges:

Low Range: 0 ~ 225 Vrms L-N / 0-390Vrms L-L Constant Power Mode
High Range: 0 ~ 440 Vrms L-N / 0-760Vrms L-L Constant Power Mode
Mechanical Specifications
All AZX models are cabinet systems with rear panel terminal blocks for AC input and AC or DC Output connections. Cabinets are on lockable casters so they can be moved around easily if needed.
Form Factor: Floor standing cabinet on casters.
Height /Depth: Approximately 60/ 32 inches
Width: 24 inches per cabinet.
Cooling: Front forced air intake with top exhaust. Automatic Fan Speed Control for low acoustic noise and extended fan life.
Expanding the AC Power Source into an Automated Test System
Pacific's line of Smartsource® AC Power Sources enable engineers to easily automate their testing by using industry standard software development environments. The AZX (regenerative AC DC power source) series offers standard Ethernet/LAN connectivity, a browser interface, LXI compliance (LAN extensions for Instruments) to ensure inter operability with other LXI instruments and IVI (Interchangeable Virtual Instrument) driver to speed up ATE test program development.
Click Here to download the Datasheet for AZX Series.
To get more details or to request a quote, please Click Here.