As society electrifies in an effort to combat climate change, we are becoming increasingly reliant upon various types of AC and DC power sources and battery testing equipment in order to integrate renewable and alternative energy sources into the grid. To meet the growing demand for AC and DC power sources and battery testing equipment, TMetrix offers an impressive range of these products. Today we are going to look at some of the offerings in these areas from two of our long-standing trusted suppliers, Pacific Power Source and Regatron.

Renewable and alternative energy and electric vehicle testing solutions
Pacific Power Source is committed to supporting the development and manufacture of technology promoting the adoption of renewable and alternative energy sources, such as wind and solar.
Renewable and alternative energy technologies often require grid-tied DC/AC inverters using modern switch mode pulse switch modulation (PWM) technology to achieve maximum conversion efficiency in converting direct current (DC) generated by solar panels into alternating current (AC) suitable for use in electrical grids or powering AC loads. Pacific Power Source has a long history of supplying industry with state-of-the art fully programmable AC power sources used to simulate a wide array of AC anomalies.
Industrial PV inverter testing
Large-scale industrial grid-tied PV inverters generate power ranging from 12kW up to several hundred kW and require extensive type testing to be certified for grid-tied operation under all kinds of adverse line conditions. The regenerative, bidirectional AZX series programmable AC and DC power sources are well suited to this task due to their extensive range of programmable features and their 30kVA to 400kVA available power range. Since PV inverters generate AC power, the AC power source used to simulate the AC grid must be able to absorb this power and return it to the grid. The AZX series seamlessly transitions between source and sink mode and meets all requirements for AC grid simulation for PV inverter-type testing.


Micro PV inverter testing
Micro inverters have quickly grown in popularity largely because of their ease of installation and high energy efficiency resulting from distributed power generation. With power levels typically below 500W, the Pacific Power Source
AMX series
of four quadrant capable linear AC power sources is perfect for testing micro inverters. As the linear AMX AC power source is able to source and sink AC power, it can be used to test PV micro-inverters without the need for additional AC loads in the setup. The fast dynamic response of the linear AMX AC power source provides high-fidelity AC grid simulation compared to switched-mode AC power sources.

Regatron power supply applications
With the incorporation of renewable and alternative energy into the grid, the structure and dynamic behaviour of electric grids has become more complex, presenting a host of challenges within the field of electrical equipment development, testing and application to ensure the seamless distribution of power. Some of these challenges include:
Test equipment for solar inverters on the AC grid side: Powerful grid simulators able to reproduce any grid situation in terms of frequency, phase angle, AC voltage, islanding situations, low voltage ride-through, flicker and voltage drops
Test equipment for any kind of electrical storage elements and complete storage arrays
Simulation of electrical storage technologies like batteries, high-density capacitors, EDLCs and unidirectional power sources like fuel cell stacks
Test equipment for electrical drive trains and their components – capable of sourcing and sinking the energy flow and returning the energy back into the grid with very high efficiency
Battery simulation
Under the control of specialized Regatron battery simulation software, the G5.BAS series and TC.GSS series are the best choices for feeding battery alimented drivetrain systems. The behaviour of different battery types as well as the variation of relevant battery parameters such as ageing, temperature and internal cell resistance may be varied within wide ranges and allow the simulation of a wide variety of operational conditions.
Relevant industry sectors:
Automotive drive tests
Drive train development
Drive technology R+D
Battery cell and stack development and tests
Battery and stack cycle tests
Electrical storage system tests (capacitors, EDLCs, batteries)
Airborne on-board supply system tests
Marine on-board supply system tests and simulation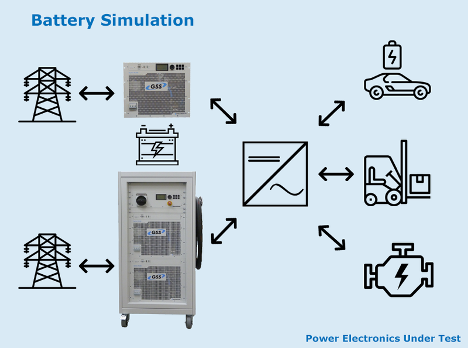 Battery testing
Bidirectional G5.BT and TopCon TC.GSS power supplies are the choice for all source/sink processes to be cycled and tested. Thanks to a state-of-the-art SiC or IGBT-technology, reversing the energy flow from a sourcing to sinking state lasts only a few 100 µs at full rated power!
Regenerated energy is reinjected into the public grid with a very high efficiency and a perfect power factor. Again, due to a very high degree of programmability, the G5.BT series and the TC.GSS series are multifunctional tools in the hands of a test engineer. Regatron bidirectional power supply G5.BT series and TC.GSS series allow for testing and simulation of all kinds of electrical storage elements like batteries, capacitors, and EDLCs. Fuel cells may be tested while fully regenerating the energy back to the grid.

Onboard charger testing and battery simulation
Onboard chargers (OBCs) are built into EVs for maximum flexibility and range. To develop, test and adapt OBCs, TC.ACS is the choice to feed onboard chargers with AC power, simulating utility grids from all over the world. On the DC side of the onboard charger, the G5.CT series and TC.GSS series can simulate an EV battery to test the behaviour of the OBC.
Contact
Click here to contact us and learn more about the fine products of Pacific Power Source and Regatron that TMetrix supplies.