Aim–TTi is one of the world's major producers of laboratory power supplies (PSUs). It has been a major technology innovator in PSUs since 1979 and offers products ranging from 30 watts up to 1200 watts. Hundreds of thousands of Aim-TTi power supplies are in everyday use around the world, a testament to the company's strength and resolve in both research and development and production.
QPX Series: PowerFlex power supplies
The one word that comes to mind when assessing the attributes of the QPX series of power supplies is "flexibility"—at a level well beyond that of conventional laboratory power supplies. This flexibility opens the door to new opportunities for today's engineers and translates to tremendous value for their companies, year after year.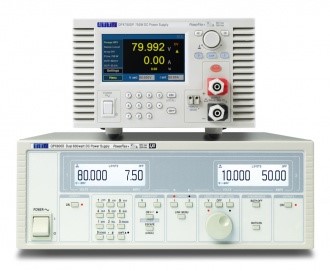 A conventional PSU has a fixed current limit giving a power capability that drops off directly with the output voltage. With the Aim-TTi PowerFlex design, QPX power supplies make it possible to generate higher currents at lower voltages within an overall power limit envelope. It does this through use of a modified form of mixed-mode regulation. PowerFlex+ uses a multi-phase conversion technique to eliminate the need for a linear final stage and offers an even wider range of voltage/current combinations. QPX power supplies are ideal for both bench-top and system applications with front and rear terminals and a wide range of interfaces. They can, therefore, perform the task of many different power supplies, reducing the need for investment in other units. Indeed, flexibility is the operative word with the QPX series.
QPX series models also have 4 digit V/I meters and an analog end control, resulting in low noise and wrinkle levels.
The QPX series provides options for labs of all kinds. The QPX1200S & SP offer a current capability of 20 amps at the maximum output of 60 volts, and the PowerFlex design offers increased output current with reduced output voltage. The QPX600D & DP offer 1200 watts of maximum power, arranged as two isolated outputs of 600 watts each with PowerFlex+, offering a much wider flexing range of more than 61⁄2:1. The QPX600D can be operated as two entirely independent power supplies, each with its own display. Alternatively, multiple tracking modes are available including series and parallel operation which provide metering of total voltage or total current respectively.

News: new PowerFlex+ 750W DC laboratory power supply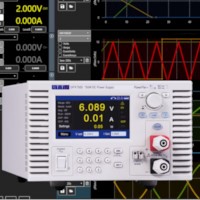 In addition to the above models, Aim-TTi is proud to offer its new PowerFlex+ 750W DC laboratory power supply— the QPX750SP. The latest addition to the QPX series, the QPX750SP is a single output 750W unit housed in a compact 3U half rack width case with front ventilation and low noise fan assisted cooling. Front and rear power and sense terminals make it equally at home on the bench or in a rack.  The RM460 4U rack kit (available separately) houses one or two QPX750SPs with ½U rack spacing above and below providing full ventilation.
PowerFlex+ regulation means that the QPX750SP is capable of voltages of up to 80V and currents up to 50A within a 750W power envelope. A balanced multi-phase converter system minimizes ripple and improves dynamic performance. This provides unusually low noise for the power level, coupled with good transient response.
A comprehensive array of interfaces including USB, LAN/LXI and quasi-analogue are standard. GPIB is available as a factory or customer fit option. The QPX750SP is compatible with Aim-TTi Test Bridge software, providing graphical remote instrument control, logging and sequencing.
Contact
Click here to learn more about Aim-TTi's QPX series of power supplies or to request a quote.