Based in Rorschach, Switzerland, Regatron AG has over 45 years of experience in electronics manufacturing and is known for its high-quality modular power supplies. Regatron thus fully appreciates the demands of working with high-power batteries and understands how essential it is to:
Monitor voltages, currents and temperatures and to keep them within a safe range; and
Pay close attention to polarity and voltage levels when connecting a battery to a load or battery tester.
Previously, batteries were relatively simple cell stacks. That certainly is not the case today. Batteries are now complex modules with superposed power electronics that require highly accurate data acquisition and fast response times.
What does the G5.BT battery tester series do?
Regatron's G5.BT Battery Tester Series represents the latest development stage of the company's DC power supplies. The series was developed in order to test energy storage devices and, in doing so, to meet the requirements outlined above. Some of the technology and exceptional features of the series that helps achieve the goals that inspired the series are outlined below:
Technologically advanced, fast switching, compact 19-inch power supplies
Current accuracy of <0.02% FS, additional high-resolution current measurement range
Voltage accuracy of 0.01% FS
Current rise time in the 50…200 µs range – even at higher power levels
Detection of reverse polarity connection
Overcurrent protection in case of unmatched voltages between battery and tester
Current ripple modulation up to 10 kHz
Wide current-voltage range with an auto-ranging factor of 3
CV, CC, CP, CR, and Ri-Sim control modes
Power regeneration and a high degree of efficiency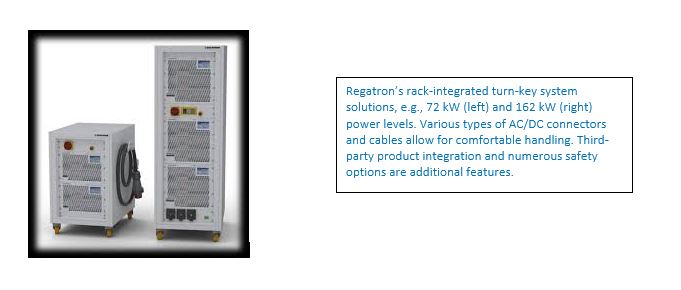 Why you should purchase the G5.BT battery tester series
Ensuring that personnel are safe and equipment is protected is vital. The G5.BT series, therefore, includes the field-proven RPP feature that guards against the two main risk factors that come into play when a battery is physically connected to the battery tester:
1) RPP reliably prevents all serious damage caused by accidental reverse polarity between battery and battery tester.
2) RPP provides overcurrent protection/soft start in case of unmatched voltages between the battery and the battery test system. Another valuable function of the integrated RPP feature is the prevention of deep battery discharge at 'Voltage Off' state.
The G5.BT series is modular and features easy scalable systems. The modularity of the series allows it to be easily adapted to ever-changing test requirements. Not only is it possible to reconfigure between parallel, series, and mixed operation, but also to expand the system with additional power supply units or to split it into smaller units. In addition, the G5.BT series features power regeneration and a high degree of efficiency, resulting in significant reduction of energy consumption and heat dissipation. The purchase of a G5.BT Regatron battery tester is thus a solid investment that continues to deliver benefits over the long term.
Applications
The G5.BT Battery Tester Series is bidirectional regenerative and best suited for battery module/pack-testing in laboratory or test bench environments. The excellent current and voltage accuracy, the fast current rise time, and the powerful integrated CAN multi-protocol interface enable tests with a high temporal and electrical resolution. The specialized application software BatControl allows the user to set many test parameter values and even to define complex test procedures. Therefore, the versatile G5.BT series can be used for testing all types of batteries and energy storage systems.
Contact
Click here to learn more about Regatron's New G5.BT Battery Tester Series or to request a quote.
Regatron's New G5.BT Battery Tester Series