Are you seeking ways to conserve grid power—and thereby save money—in your equipment testing operations? Of course you are! The AZX Series, therefore, may be just what you're looking for.
The AZX Series is a family of high-power, single-, split- and three-phase, AC, DC and AC+DC output capable power sources with full energy recovery to the AC mains when sinking power from the equipment under test. Think about that: full energy recovery. That's a clear strategy for conserving grid power and saving money.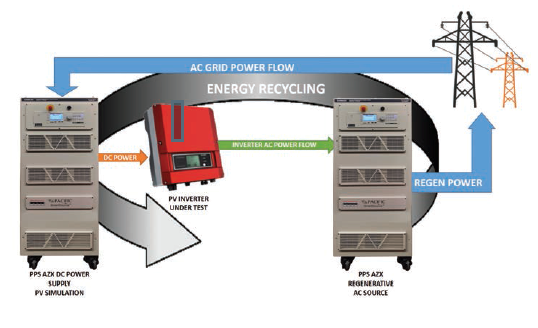 AZX Series models range from 30-100 kVA. Using a modern color touch screen based user interface for ease of use, the AZX Series is cost effective and fully programmable for both basic frequency conversion and advanced AC power line or DC power disturbance test applications requiring up to 1000 Hz fundamental frequency.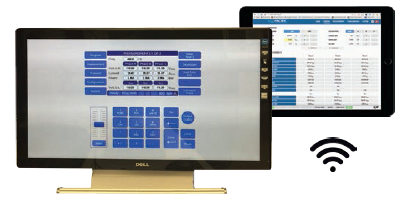 Key features of the AZX Series
Full power source and sink capability with energy recovery to the grid
100% of the current and power rating in source and sink modes
Parallel configurations for higher power (see image above)
Three-phase, split-phase and single-phase output modes
AC, DC, AC + DC or DC + AC output capability
Dual constant power mode voltage ranges
Frequency range DC, 15 – 1000Hz or 1Hz – 15Hz in VLF mode
Phase angle programming
Precision output voltage and load regulation
 Metering of volts, RMS current, peak current, apparent power and true power on all phases
Harmonic measurements
Scope function to capture voltage and current waveforms
Sine, square, triangle, clipped sine and arbitrary waveforms selections
Output transient programming
Programmable output impedance
Standard USB, LAN (LXI), RS232 and GPIB interfaces
High-speed analog I/O for PHIL applications amplifier mode (Option H)
Electronic regenerative AC or DC load mode (Option L)
Key applications of the AZX Series
Regenerative grid simulation applications
Demand for renewable energy is growing rapidly, as is the need to test AC and DC products and systems that can recycle energy back to the grid. Regulatory and performance test requirements of these systems require an AZX power source for grid simulation. With extensive control over voltage, current, frequency, phase angles and transients, the AZX series supports testing of solar inverters (PV), energy storage systems (ESS), EV batteries and traction systems, as well as on-line UPS equipment with both AC and DC source and sink capabilities.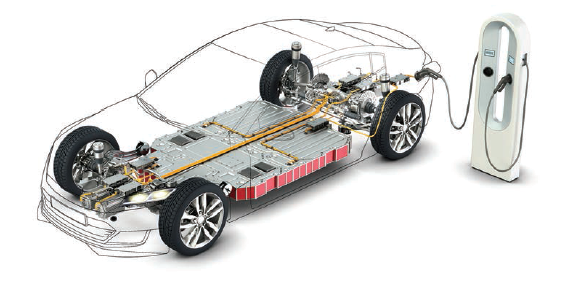 Avionics and defense power test applications
The AZX Series has a wide output frequency range, allows their use in avionics and defense power applications requiring either 400Hz fixed or 360Hz to 800Hz wild frequency output. For emerging battery backed DC avionics power systems, multiple 270Vdc outputs can be used to simulate a split 540Vdc aviation DC power bus. High-power, three-phase configurations are available to meet regenerative or conventional power test demands. As needs change over time, additional units can be added easily to keep up with your test needs while protecting your original investment.
About Pacific Power Source
Founded in 1971, Irvine, California-based Pacific Power Source was a pioneer in the development of solid-state power conversion equipment and continues to develop and manufacture both linear and high-performance AC power solutions that are technically advanced, reliable, and cost effective and feature fast transient response, tight regulation, high peak current capability, no switching noise (linear) and very low switching noise (PWM switching) models and low impedance. Markets served include test and measurement instrumentation, household appliance and consumer product manufacturing, military, aerospace, aviation, communication, industrial, computer and government agencies.