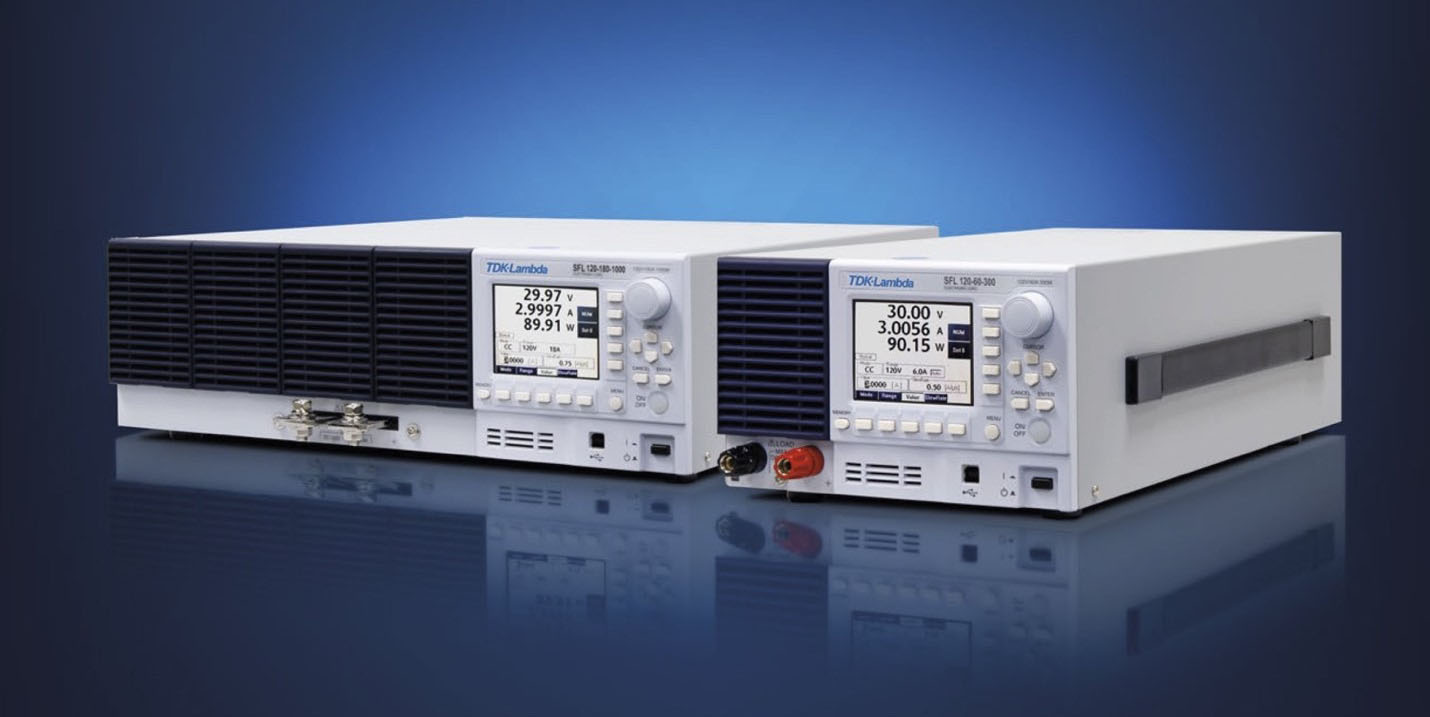 TDK Lambda's SFL DC Electronic Load Series was developed to provide an electronic load for the design, evaluation and manufacture of regulated DC power supplies, fuel cells, solar cells, batteries and components. Sales of the series commenced in July 2020.
Key features of the SFL DC Electronic Load Series
The SFL series is multi-functional, programmable and offers power levels of 300W (3U half rack) and 1000W (3U full rack) with high-speed response and stable operation at low voltage. The series also offers seven load operating modes that allow the user to connect and test products under various operating conditions.
There are two different dynamic operating modes: Dynamic Frequency Mode (allows the user to switch the load between two different settings for a single pulse or repeating pulse profile); and Dynamic Time Mode (allows the user to program up to 16 load settings that can be programmed for a repeating pulse profile). Both modes also provide a rear panel TRIG OUT function for waveform scope viewing or for synchronization with other test equipment.
A Sequence function is built-in where simple/complex waveforms can be created (up to 1024 time steps) using Excel-based control software and digital interface communication (USB or IEEE). A Sweep Mode feature is also available, allowing for product testing where devices/products require test sweeps in CR mode for V-I characteristic testing, CC mode for overcurrent protection characteristic testing or CP for overpower protection characteristic testing.
The SFL series has a V Mode function that automatically changes the load mode (when voltage is rising or falling) or turns off the load input until the load voltage reaches a set value, on-board memory for storage/recall of up to eight operational settings and a rear panel Remote Sense selection switch and connection ports for connection and voltage measurement across the test device.
Model functions can be set up via the 3.5" color LCD front panel display (which has oscilloscope-like function keys on the vertical and horizontal borders). Using these keys in combination with the four embedded operating allows for adjustment, setup, storage and recall of the load operating parameters. These model functions are also accessible via the built-in USB interface or the optional IEEE Interface.
Higher power DC load systems (up to 10kW) are achievable using a Master-Slave unit arrangement and a simple parallel cable connection from unit-to-unit, with all system control and monitoring performed through the master unit (for easy interfacing).
Multi-channel synchronous operation (with triggering) is also available and allows multiple DC electronic loads to be connected to separate devices by using the same parallel cable connection from unit-to-unit. Synchronized load ON/OFF and Dynamic operation are featured in a Master-Slave configuration with up to ten units (up to 10kW total).
Optional interfaces offered include the IEEE Interface (with a built-in DIDO Interface) and the Ripple Measurement Module (R ) Interface. The IEEE Interface is 488.1 compliant with instrument software drivers available for use. The DIDO  Interface allows for remote interfacing with PLC controllers and includes isolated control and status of load ON/OFF, Range setting, Alarm Detection/Clear and Sweep Function Pass/Fail status.
Models are available in 300W and 1000W power levels with Output voltages of 120V (60A and 180A) and 500V (18A and 36A) and are powered from a universal single-phase AC input (85~264VAC, 47~63Hz).
About TKD-Lambda
TDK-Lambda Corporation, a subsidiary of TDK Corporation, is a global supplier and recognized leader of power conversion products suited to many applications, including: medical, industrial, broadcast, defense, factory automation and LED/LCD signage. With global sales in excess of $500 million, they have design, manufacturing, and sales locations in Japan, China, EMEA, ASEAN, and the Americas. TDK-Lambda's view is a "Power Supply" is more than just an electronic device. It is the "heart" of their customers' systems and the core element of safety and reliability.