Description
Building on the success of a winning formula
In the 1980s the original PL series transformed customer expectations of the bench power supply and set a format that has been extensively copied by other manufacturers. Over the years, the PL series has been steadily revised and extended. Hundreds of thousands of PL series units are currently in use across the world and it remains the laboratory power supply of choice for many organisations.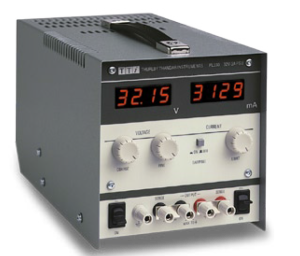 TTi has been at the forefront of laboratory power supply design for around thirty years during which it has re-defined the state-of-the-art for switch mode products with its innovative Mixed-mode and PowerFlex regulator designs. Continuing development of linear models has generated the lower cost EL series, and the
advance QL series. However, demand for the PL series hads remained strong – demonstrating how well it has met the needs of its many customers. Now TTi has engineered an all-new design which retains all the key features of the original PL series, but combines them with new and important features.
| Model | Description | | |
| --- | --- | --- | --- |
| | Bench System DC Power Supply, Linear Regulation, Smart Analog Controls Triple Ouput, 2 x 30V/3A plus 6V/6A, USB, RS232 & LAN Interfaces (GPIB optional) | | |
| | Bench System DC Power Supply, Linear Regulation, Smart Analog Controls Dual Output, 2 x 30V/3A, USB, RS232 & LAN Interfaces (GPIB optional) | | |
| | Bench System DC Power Supply, Linear Regulation, Smart Analog Controls Triple Ouput, 2 x 30V/3A plus 6V/6A, No Interfaces | | |
| | Bench System DC Power Supply, Linear Regulation, Smart Analog Controls Dual Output, 2 x 30V/3A, No Interfaces | | |
| | Bench System DC Power Supply, Linear Regulation, Smart Analog Controls Single Output, 60V/1.5A, USB, RS232 & LAN Interfaces (GPIB option) | | |
| | Bench System DC Power Supply, Linear Regulation, Smart Analog Controls Single Output, 30V/3A, USB, RS232 & LAN Interfaces (GPIB option) | | |
| | Bench System DC Power Supply, Linear Regulation, Smart Analog Controls Single Output, 15V/5A, USB, RS232 & LAN Interfaces (GPIB option) | | |
| | Bench System DC Power Supply, Linear Regulation, Smart Analog Controls Single Output, 6V/8A, USB, RS232 & LAN Interfaces (GPIB option) | | |
| | Bench System DC Power Supply, Linear Regulation, Smart Analog Controls Single Output, 60V/1.5A, No Interfaces | | |
| | Bench System DC Power Supply, Linear Regulation, Smart Analog Controls Single Output, 30V/3A, No Interfaces | | |
| | Bench System DC Power Supply, Linear Regulation, Smart Analog Controls Single Output, 15V/5A, No Interfaces | | |
| | Bench System DC Power Supply, Linear Regulation, Smart Analog Controls Single Output, 6V/8A, No Interfaces | | |