Description
Product Overview and Models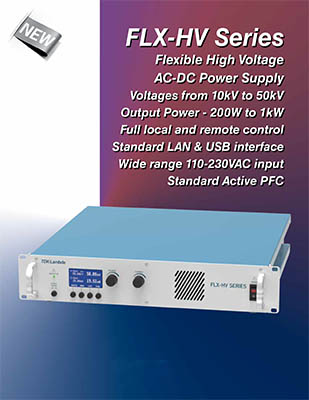 The FLX-HV series are a new family of Flexible and Versatile High Voltage, Programmable AC to DC Power Supplies that offer performance and versatility combined with feature rich multi-function local controls, standard USB/LAN interfaces, and class leading wide range 110/230VAC input voltage with Active PFC. TDK-Lambda FLX-HV Series Flexible
This series features Output voltages of 10kV, 30kV, and 50kV at power levels of 200Watts, 500Watts, and 1,000Watts. Wide range single-phase 110/230VAC Input (100-254VAC, 47-63Hz) with Active PFC (PF>0.95) is standard for all models. The FLX-HV supply features standard integrated USB and LAN digital interfaces.
All models are CE Marked in accordance with the Low Voltage and EMC Directives, and are RoHS compliant and offer a three (3) year Warranty.
The FLX-HV model table below can be sorted by any column, just click on the column header to sort ascending or descending.
Model Number
(click any column to sort)

Rated
Power
(Watts)

Output
Voltage
Rating
(Volts)

Output
Current
Rating
(milliAmps)

Ripple
V p-p
(DC-10MHz)

Width
inch
Height
U
Depth
inch
Weight
lbs

Data
-sheet

FLX10P20
200
10000
20
10
17.5
2
17.9
22
FLX10P50
500
10000
50
10
17.5
2
17.9
22
FLX10P100
1000
10000
100
10
17.5
2
17.9
22
FLX30P7
200
30000
7
30
17.5
2
17.9
30
FLX30P17
500
30000
17
30
17.5
2
17.9
30
FLX30P33
1000
30000
33
30
17.5
2
17.9
30
FLX50P4
200
50000
4
50
17.5
2
17.9
30
FLX50P10
500
50000
10
50
17.5
2
17.9
30
FLX50P20
1000
50000
20
50
17.5
2
17.9
30
Ordering Information
Model

Voltage
in kV

Polarity

Current
in milliA

FLX

30
P
33
N
Technical Details
The FLX-HV series of programmable AC/DC power supplies are flexible, precise, low ripple, affordable, programmable High Voltage DC power supplies with standard LAN and USB interfaces, for a broad range of scientific and industrial applications.
The FLX-HV series is a highly efficient, compact and robust design at an affordable price point. Combining simple operation and an easy to use multi-function display, these power supplies are well suited for applications in industry, science, and research institutions.
Flexible controls with convenient menu navigation
FLX-HV models feature flexible and easy to operate local controls combined with a multi function digital display that simultaneously shows both the output set points and actual measured values. HV outputs can be adjusted with Voltage and Current encoders with coarse and fine settings, with set point adjustment possible even with the output locked. The local control interface also allows the user to set the IP address, displays information about the unit, such as serial number, firmware version, operating hours, MAC address and internal status. Other features include; Operating hours counter, device history (fault memory), streaming of actual values and states with timestamp, flash-over counter, overtemperature device shutdown, and much more.

The HV output is resistant to short circuits and flash-overs and can operate continuously into a short circuit. The FLX-HV supplies are suitable for both inductive and capacitive loads and for unlimited operation at both full and no load. 
Protective functions
Multiple protective functions protect external load circuits from damage due to output overvoltage and overcurrent. As soon as one of the programmable output set points is reached, the DC output is highly regulated and prevented from exceeding the setpoints. Multiple temperature sensors monitor the main power components, and in the event of a fault, power circuits are shut down and a fault message is displayed.
Standard digital interfaces
Standard integrated LAN and USB interfaces are located on the rear panel. This ensures the power supply can be controlled and maintained remotely and also allows multichannel communication with the unit using checksum-protected data transmission.
All models are CE Marked and offer three (3) year Warranty.
Specifications
HV Output
Rated voltage: 10kV, 30kV, 50kV


Continuous adjustment from 0 to rated voltage/current by encoder with coarse/fine setting, and locking control. Encoder steps are programmable via the remote interface.


Output Range: 

0.1% to 100% of rated


Set Point Resolution:±0.1% of rated
Output Power: 200Watt, 500Watt, 1,000WattPolarity


Fixed polarity, specify Positive (P), Negative (N)

Output Characteristics
Regulation (Line) – CV/CC:

 ±0.01% 


Regulation (Load) – CV/CC: 

±

0.1% no load to full load
Recovery Time – CV/CC: < 5ms for load changes from 10% to 100% or from 100% to 10%
Response time at nominal load – < 500ms for output changes from 10% to 90% or 90% to 10%
Ripple
0.1% peak to peak
Stability


< ±0.1% over 8hours under constant conditions

AC Input
Single phase 110/230VAC
(100-253VAC) 47-63 Hz, PF>0.95AC Connector
IEC60320 C20 receptacleEfficiency


85-90% at full load and nominal line

Safety


CE Marked, EN61010-1 compliant

EMC
EN61000-6-2 and EN61000-6-3
Temperature Coefficient


< ±0.1% per °C typical

Ambient Temperature


0°C to +40°C operating




0°C to +60°C storage

 
Humidity
0-80% at 0-31°C, linearly decreasing to 50% at 40°C
Altitude


Operating: 6,500ft (2,000m)

HV Output Connection 
10/30kV models – GES HB41 with 9ft mating cable
50kV models – GB150 with 9ft mating cable
HV Insulating Medium
Outputs – 10kV models are air insulated
Outputs – 30/50kV use solid dielectric silicone encapsulation

Front Panel
Voltage and Current encoders, Power switch, HV ON/OFF switch.
Multi function display shows actual outputs, set points, set/display IP address, unit status, MAC address, baud rate

Mechanical
See dimensions and weight listed on Overview tab
2U (3.5″) rackmount package x 17.9″ deep x 17.5″ wide

Units must be supported on an appropriate shelf if rack mounted.

Protection
Open/short circuits, Overloads, Arcs, Overtemp, Overvoltage, Overcurrent, Flashover

Digital Interfaces 
(factory installed, embedded)
• LAN: LAN/Ethernet interface
• USB: USB interface
Control interface cables are not included

What's In The Box
FLX-HV Series HV Power Supply
9ft HV Output Cable
Test Data Sheet
AC power cable

Not Included
Digital control interface cable (USB/LAN etc)
Product/Interface manual available for download only

All specifications subject to change without notice.
TDK-Lambda FLX-HV Series Flexible