Description
Cascade TESLA200 automated wafer power device characterization
`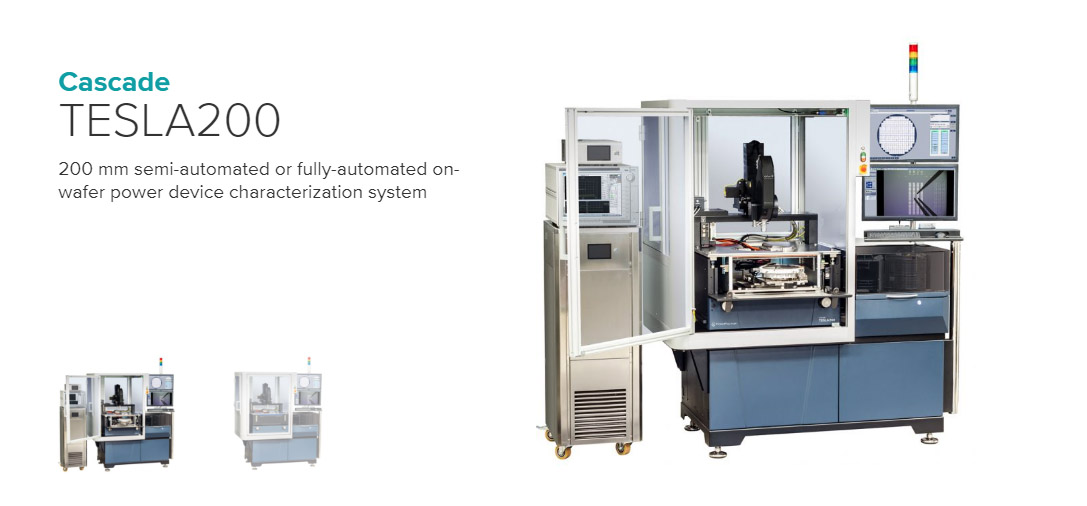 TESLA200 Overview
Designed specifically for IGBT/power MOSFET (GaN, SiC, Si) device measurements at the wafer level, the new TESLA200 on-wafer power semiconductor probing system is engineered to provide accurate data up to 3, kV (triaxial) / 10 kV (coaxial) and 200 A (standard) / 600 A (high current). With next generation test capabilities, anti-arcing solutions, wafer automation, and support for both engineering probes and production probe cards, the TESLA200 now enables complete thermal testing (-55°C to 300 °C) with fully-automatic thinned/warped/TAIKO wafer loading. One system covers all on-wafer high power test needs, from R&D to niche production.
Applications: High Power
TESLA200 Key Features

High-voltage/current Probes
On-wafer power device characterization up to 10,000 V DC / 600 A
Reduced probe and device destruction at high currents up to 20 A DC and 300 A pulse
Increased isolation resistance and dielectric strength to provide full triaxial capability at high voltage (3,000 V) for low-leakage measurement

Gold-plated TESLA High-power MicroVac™ Chucks

Prevent thin wafers from curling and breaking
Advanced MicroVac chuck surface for minimum contact resistance between wafer and chuck
Accurate Rds(on) measurement at high current
Accurate UIS measurements at high temperature

Safety for Operator

Safety interlock system with clear enclosure for operator safety during device measurements
Roll-out stage for full wafer access and easy wafer loading/unloading

Seamless Integration

Convenient connection kits for easy and safe system integration with power device analyzers from Keysight Technologies and major suppliers
Seamless integration between Velox and analyzers/measurement software

Productivity

High-throughput wafer autoloading (standard, thinned, warped, TAIKO)
Contact Intelligence enables higher yield, accurate Rds vertical device measurements over temperature automatically
Easy on-screen navigation, wafer mapping, and operation of accessories with Velox
Cascade TESLA200 automated wafer power device characterization.