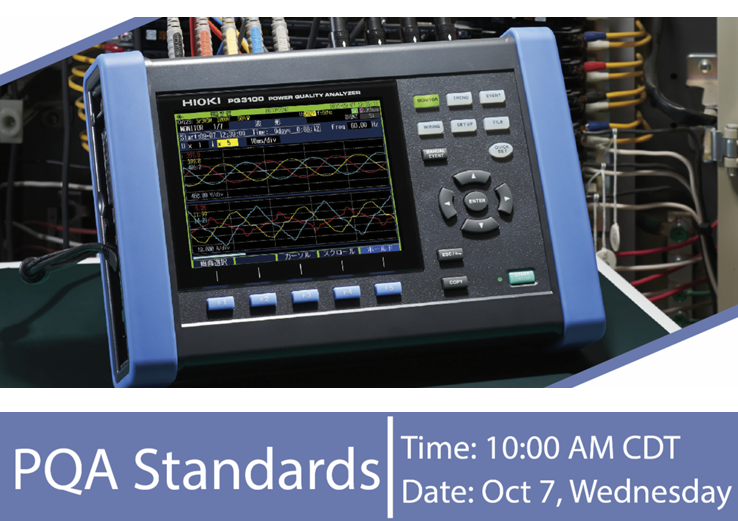 In this webinar, we will discuss the frequently observed power anomalies in the field, and present the basics of power quality analysis along with international power quality standards.
We will also present to you how remote data collection from the field can be made possible, which comes in handy during this COVID-19 period and how our complimentary software can become a powerful and effective power consumption and powerful monitoring tool.
Speakers:
---
Chris Sholz
Product Manager @Hioki
Before joining Hioki, he was a product manager with R&S where he was responsible for the vector network analyzer product portfolio. He holds a Ph.D., in Electrical Engineering/Optical Communications and an MS in Aerospace Engineering from the Georgia Institute of Technology.
---
Tomohide Tsukasaki
Application Engineer @Hioki
Tomohide Tsukasaki has been with Hioki as an Application Engineer for 5 years and prior to joining our team, he was an Application Engineer with the National Instrument Japan for 8 years. He holds a Bachelor of Science in Chemical engineering from Waseda University and MS in Environmental Engineering from the University of Florida and the University of California-Davis.
---
Ihsan Dalgic
Application Engineer @Hioki
Ihsan is an Application Engineer for Hioki USA and comes with long years of experience in the engineering field. Before joining Hioki, he was a Semiconductor Test Engineer II with Maxim Integrated for 8 years and an Applications Engineer with DFW Test Inc. for 13 years. He holds a Bachelor of Science in Electrical and Electronic Engineering from the Trinity College Dublin.