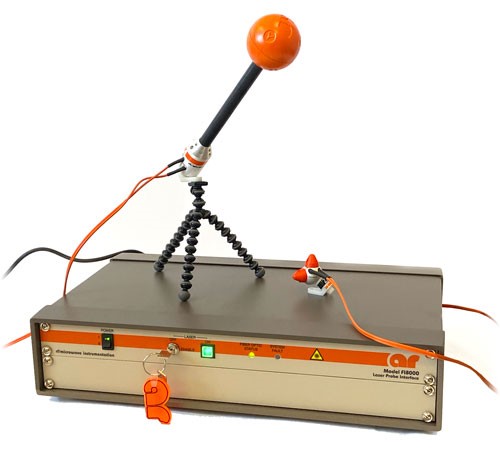 What is an electric field probe?
An electric field (E-field) probe is a long, spherical probe-capped wand that detects unsafe levels of RF emissions and gives operators data on the electric field in an area. E-field probes are also used in anechoic chambers (rooms that completely absorb reflections of sound or electromagnetic waves), OATS locations (open air test sites) as well as other unique applications, such as monitoring emissions of aerospace and military systems. An E-field probe generally consists of a dipole antenna, readout device, RF detector and non-perturbing transmission line.
The FL8000 Series—a "3-in-1" solution
Launched in spring 2021, AR's FL8000 Series of five E-field probes is a new generation of field probes that offer a "3-in-1" solution—the capability of measuring, with a single probe:
Continuous-wave electric fields;
Pulsed electric fields; and
Modulated electric fields.
Covering the 5 kHz – 60 GHz frequency range, this "3-in-1" solution represents the ultimate in E-field probe versatility for simplifying EMC testing in the lab. In the past this testing often required multiple field probes for measuring different types of electric fields in commercial, automotive, military, and aviation applications. This compromised lab layout and efficiency.
As AR CEO John Kim notes:
"We continue to raise the bar in probe testing functionality and integration to help our customers improve the layout and efficiency of their testing labs. With the unique combination of the wide frequency ranges, unmatched reliability, and multiple measurement types, the FL8000 Series is the single go-to solution for meeting a variety of EMC standards."
The FL8000 series offers exceptional linearity and dynamic range performance to enable the accuracy required for even the most demanding testing. With fiber power connectivity, the FL8000 Series provides an easy migration path, all while delivering the reliability that has made AR the world leader in field monitoring.
FL8000 Series kits
The Field Probe kits contain a laser probe interface, and everything needed to operate its associated field probe.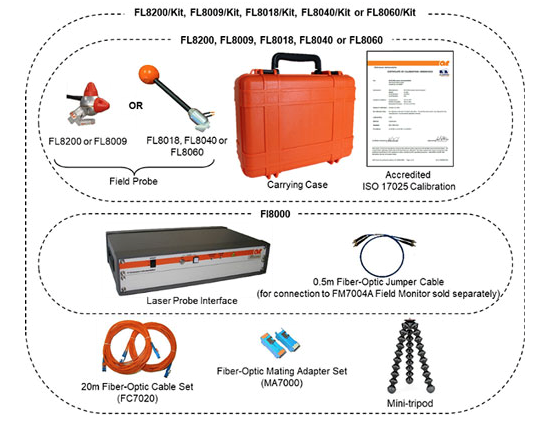 FL8000 series highlights
Separable-axis field probe capable of measuring continuous-wave, pulsed and modulated electric fields
Use of laser to deliver power-over-fiber allows for continuous operation without recharging or replacing batteries
Correction factors from accredited ISO 17025 lab
About AR
Founded in 1969 and located in Souderton, Pennsylvania, Amplifier Research (AR) does business as AR RF/Microwave Instrumentation. The company is a leading supplier of RF/microwave benchtop and rack-mounted broadband, high-powered, solid-state RF and microwave amplifiers, antennas, amplifier modules, complete EMC test systems, EMI receivers, military communications booster amplifiers and more. AR has developed a strong customer base in a wide range of markets including communications, military, commercial, wireless, medical, automotive, aerospace, product compliance testing, research and education.